5 tips on how glasses can make you look great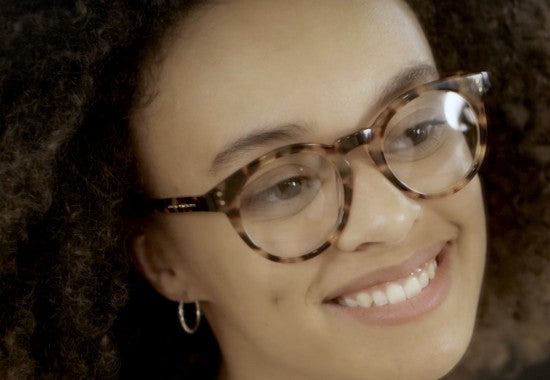 5 tips for looking great in glasses
Irrelevant of how old you are, simple changes can make all the difference to how we look and feel.
1. EYE MAKEUP
Natural shades of eye shadows with cream base reduce the creases on the eyelids. This gives a healthy glow. Eye liners and mascara help enhance the eyes. This is great if you are short sighted. As the lenses make the eyes look smaller.
If you are long sighted try reducing the eye liners and mascara as the longsighted lenses make the eyes appear larger.
2. STYLE
In theory; if you have a rounder fuller face, try frames with angles such as large squares, soft squares, larger rectangular shapes. If you have sharp jawline or cheekbones, try softer rounder frames. In other words, opposites work. For rounder face try sharper frames. For sharper facial features try softer frames.
3. GO LARGE
Try frames that cover more than just your eye. If you look at our Model Mia in the photos above; you can see that in the left photo she is wearing glasses that only cover her eyes. On the right side, she is wearing larger frames.
4. ACETATES, METALS AND COLOURS
Acetates (plastics) are here to stay, especially crystal colours. Don't be afraid to try them if you have only ever worn metal frames. Roundish metal frames have made a huge comeback. Give these a go if you have only worn acetate frames.
5. CONFIDENCE WITH A SMILE
It sounds obvious, but sometimes we just have to remind ourselves to be confident. Relax your shoulders back, lift that head up and let that hair down! Ultimately, you define your glasses not the other way around.
This video with Mia shows an example of how small changes make a big difference.
Why not try some new glasses for yourself?The great news is that you can try 4 pairs for free for up to 7 days with free delivery and returns.